our rig. (aka home, sweet home)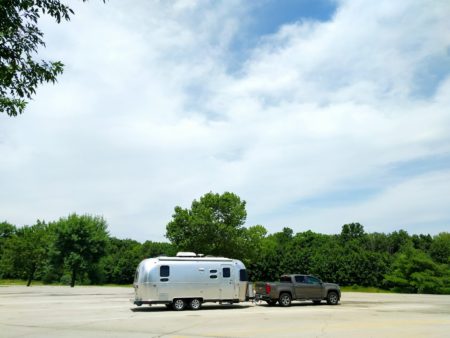 So, where exactly do Zach and I live? In an adorable little Airstream which is towed by an equally adorable mid-size truck.
Airstream 23D
Zach and I shopped and shopped for RVs for many years. In 2012 we purchased a RAV4 with a tow capacity of 3500 confident we'd buy an Aliner to tow behind it. When our dreams of owning an RV turned into living in an RV we started having doubts about what we needed. We'd spend hours browsing RVs at local RV events and local dealers. We liked a lot of styles and brands but I couldn't stand completely straight in some or didn't enjoy the dated interior in others.
And then we saw an Airstream and that was that.
Our next decision was the length; we quickly eliminated the 16′, were seriously debating the 19′, but we ultimately went with a 23′. We knew at the time of purchase that we'd be living in and working from the space full-time; we wanted to be realistic about our needs and I'm so thankful for those extra 4′ feet. I'm often amazed at how little our Airstream looks from the outside compared to how big and roomy it feels inside.
Chevrolet Colorado
When we started our search for a tow vehicle, the Colorado was newly releasing its diesel engine (wait lists!) which made it the toughest mid-size truck on the market. (And also toughest to obtain! That's a story for another time.) Zach and I hadn't ever thought about buying a Chevrolet but given the specs of our camper and after crunching the numbers we knew that this truck was the only realistic way we could stay mid-size and comfortably tow our Airstream. But even then, everyone (aka the internet and my dad) said it wasn't enough truck. People love overkill.
Stressing their opinions, Zach and I spent a lot of time test driving other options. It was important to us to have a capable tow vehicle, while also having a truck that we felt comfortable driving on its own. We knew we loved the Colorado, but it wasn't until we test drove — and subsequently struggled to maneuver — a Silverado that we officially decided to to take the plunge.
We've been so pleased with our decision and I'm so happy to have proven the concerns unfounded. Our little truck doesn't struggle at all, has great control and handles the load so well. While towing we get around 16MPG, but Zach amazingly got 21MPG while towing from Asheville, NC to Nashville, TN. When we're not towing we enjoy gas mileage that is far better than the small hatchback we traded in for it.
So, long story short, I am in love. Our years of research paid off because this is seriously the perfect set-up for our needs.